WEYLAND-YUTANI OPERATING SYSTEM
PLEASE LOGIN
USER: NIVERSON45
PASS: *********
PLEASE STANDBY
WELCOME GUNNERY SERGEANT NEIL IVERSON
SELECT FILE
>
PERSONNEL
 FILE SELECTED.
DETAILS
Name: Neil Iverson
Gender: Male
Age: 29
Rank: Gunnery Sergeant
Vitals: Alive
>Attached Image(s) Loaded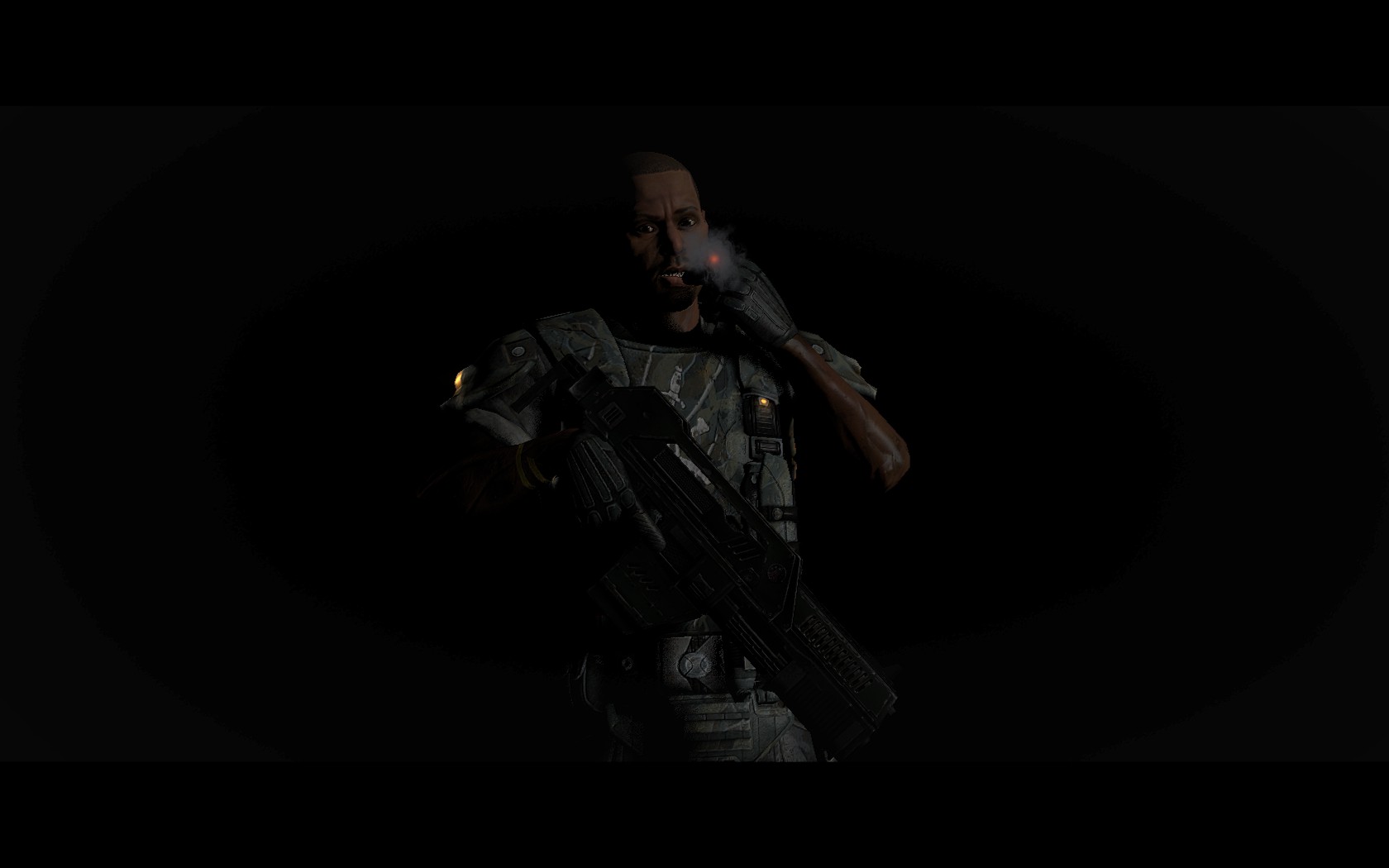 >Vocal Sample Loaded
(Voice begins at 1:00)
Physical Description: Gunnery Sergeant Neil Iverson stands at 6'1 feet tall. He wears standard M3 Pattern Personal Armor complete with the M10 Personal Helmet. His armor is covered in several different sprayed and drawn on designs, most notably one seeming to count kills on his left shoulder plate. He stands and speaks firmly, often getting straight to the point. He has short, brown hair, brown eyes, and short facial hair covering most of his chin and the area around his lips. He has several tattoos on his bare arms, such as dogtags going down his right arm, and an American flag that is mostly covered by his armor. His armor is worn and well used, his weapons, however, seem well kept, despite their obvious heavy use.
Main Weapon: M41A Pulse Rifle
Secondary Weapon: VP-78 Combat Pistol
Status: Alive
Current Position: Aboard the USS Verloc
Medals and Awards: None
Training(s): USCMC Boot Camp, 0311 AIT, 0369 NCOES
Faction Allegiance: The United States, the United States Colonial Marine Corps
Listed Liked Factions: N/A
Listed Disliked Factions: N/A
Listed Neutral Factions:
N/A
Listed Suspicious Factions: Weyland-Yutani Corporation

Hostile Factions:
Insurrectionists
, rebels, and hostile alien lifeforms.
Personal Relationships
Affectionate
Liked
Respected
Neutral
Sympathetic
Disliked
Feared
Hated
Admin




Posts

: 625


Join date

: 2015-12-06


Location

: Chicago





Similar topics
---
Permissions in this forum:
You
cannot
reply to topics in this forum