DESCRIPTION
Name:
 Lucius Kade
Gender:
Male
Race:
 Human
Subrace:
Astrican
Age:
31
Level:
2
Picture: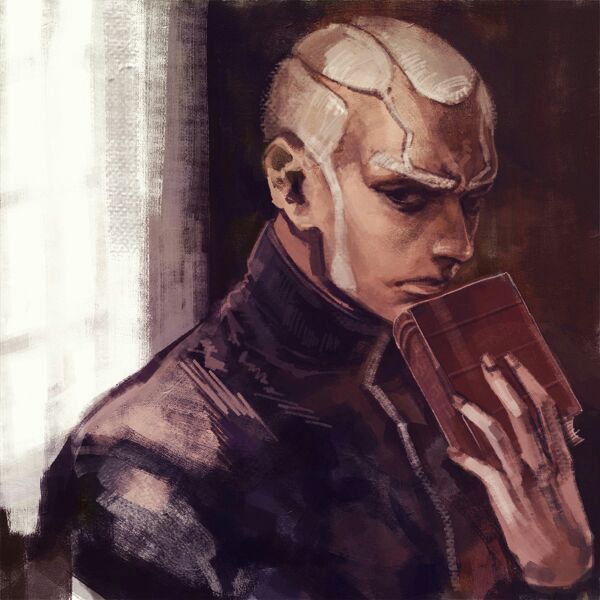 (except - same hair style but with black coloring instead)
Vocals:
Ulysses - Fallout New Vegas: Lonesome Road
Physical Description:
A standard-built figure wearing some well-maintained and subtle religious attire, with black leather gloves at the belt as well as a few other small belongings. Stern Brown eyes with black hair, and a strong but at the same time calming voice unlike his gaze.
Class:
Cleric
Main Weapon:
Faith
Secondary Weapon:
Steel dagger
STAT SHEET
Attributes
Strength - 3
Ability - 1
Intelligence - 1
Charisma - 2
Luck - 2
Skills
First Aid - 5
Perception - 5
Persuasion - 5
Tracking - 5
Gutting - 5
One Handed - 13
Two Handed - 5
Archery - 5
Throwing - 5
Alchemy - 5
Enchanting - 5
Smithing - 5
Heavy Armor - 5
Light Armor - 5
Lockpicking - 5
Pickpocket - 5
Ballistics - 5
Restoration - 5
Illusion - 5
Manipulation - 12
Conjuration - 5
Glossolalia - 20
RELATIONSHIPS
AffectionateLikedRespected
Viden Argon: A male spirit bound to some armor. He has shown spectacular bravery and combat mettle, as well as a likeable personality. I would gladly (and am looking forward to) adventure along with him again.
Nivifi: A female elf who also seems to keep a mostly positive outlook and shows interests in nature and healing. A capable fighter I hope to work with more.
Radovid of Tispania: A male witcher. By their nature I have respect for Witchers due to their always-dangerous task of cleansing the unholy and the unnatural that only wish to do harm to innocents. Our motivations are similar and I would definitely seek his assistance should I come across something unholy.
NeutralSympathetic Disliked
Sigewulf: Although he is a fine enough fighter, he has shown a rather brash attitude, suggesting we kill an innocent man who had a curse befall on him for a minor slight. Unlike the others in the adventuring party, I would not mind parting ways with this one, but would not speak against him at any point.
Hated
Your character can now advance to level two.
You have been granted 5 skill points, you may assign them wherever you want. 
You have also been granted 1 attribute point to assign wherever you want.
Comment underneath this detailing your choice, and I will upgrade your sheet for you.
Admin




Posts

: 625


Join date

: 2015-12-06


Location

: Chicago



+1 to Glossolalia
+1 to Manipulation
+2 to One-Handed
+1 to Lore

-------

+1 to Intelligence


Similar topics
---
Permissions in this forum:
You
cannot
reply to topics in this forum