DESCRIPTION
Name:
Ghovesh Syzoth
Gender:
Male
Race:
Reptilian/Marsh Man
Subrace:
Civilized
Age:
Picture: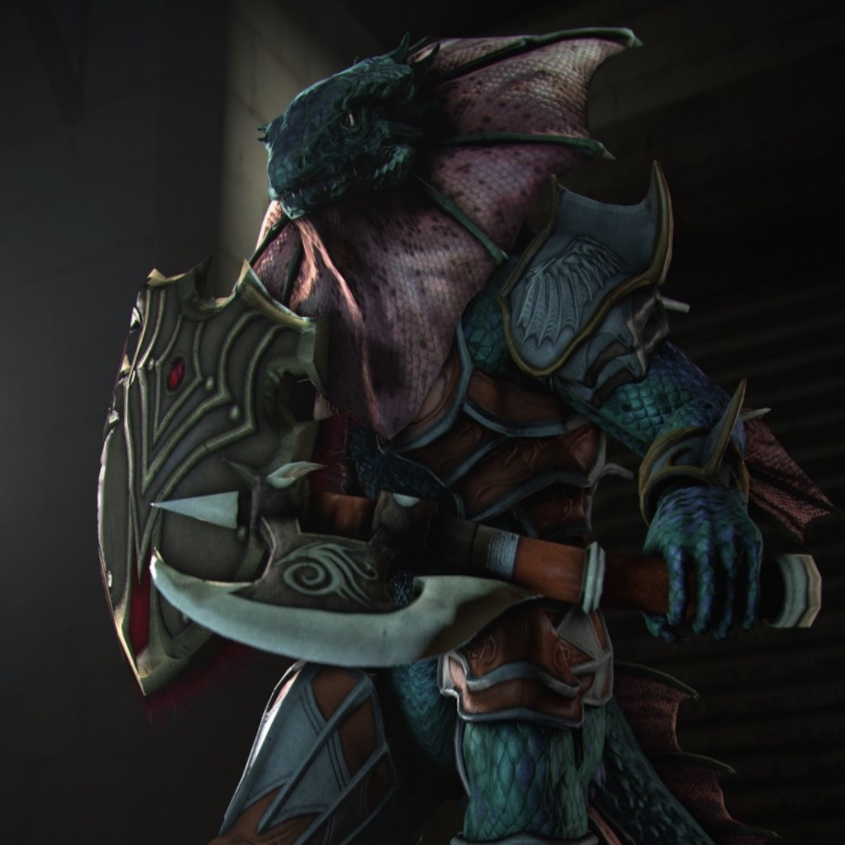 Ghovesh in full armor with his dewlap fully displayed.
Vocals:
Reptile, Mortal Kombat X, Steve Blum
Physical Description:
Standing at 6'7, Ghovesh is an average heighted Reptilian. His dark greenish-blue hide is pock marked with scars and slashes from previous battles. His armor is made from a mix iron, monster bones, chainmail, and hardened leather from his homeland. His voice is raspy and forced-sounding, each word having effort behind it. It is clear that the common tongue is not his first language.
Class:
Swordsman
Main Weapon:
Dual Axes
Secondary Weapon:
Reptilian Claws
STAT SHEET
Attributes
Strength - TBD
Ability - TBD
Intelligence - TBD
Charisma - TBD
Luck - TBD
Skills
First Aid - TBD
Persuasion - TBD
Tracking - TBD
Gutting - TBD
Power Strike - TBD
Power Draw - TBD
Power Throw - TBD
Alchemy - TBD
Enchanting - TBD
Smithing - TBD
Heavy Armor - TBD
Light Armor - TBD
Lockpicking - TBD
Pickpocket - TBD
Ballistics - TBD
Healing - TBD
Illusion - TBD
Manipulation - TBD
Conjuration - TBD
RELATIONSHIPS
AffectionateLikedRespectedNeutralSympathetic DislikedHated
Last edited by Lapis on Sun Jul 23, 2017 9:13 am; edited 2 times in total



Posts

: 181


Join date

: 2016-03-13


Location

: Texas






Posts

: 181


Join date

: 2016-03-13


Location

: Texas




---
Permissions in this forum:
You
cannot
reply to topics in this forum